There is a line in a John Denver song that goes "Even when it's raining, the sound of heaven singing
Is simply joyful music to me". That is what's occurring as I write this post. The song goes on :"Life is so incredible to me"! This is how I feel right now! I have been so blessed by so many events and adventures in my 76 years! And Lou Ann and I are about to embark on another one! In my writing you will see me use the exclamation point frequently. It is how I feel! Life is exciting and amazing and I want to celebrate it every chance I get
We live in Sedona Arizona, arguably one of the most beautiful places on Earth! We moved here first in 1988 and returned in 2013 after seven years in Northern Virginia and four years on the big island of Hawaii. Many of our adventures were filled with travel and moving and meeting wonderful people who we dearly love.
Our new adventure will be right here in our own home.  We bought our home last year after renting it for two years. It was built in 1974 and sits at the top of our street looking at a breathtaking view of the ancient red rocks with the highlight being Bell Rock a prominent landmark here in the Village of Oak Creek.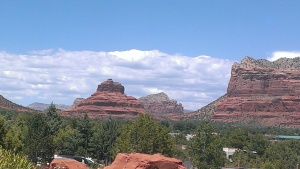 Our house lot is one acre in size and we plan to permaculture most of it. Permaculture is using our land in harmony with itself. That is using the natural flow of the land and water flow, we will plant vegetables, fruits, spices and plants to support each other in a holistic way. We are inviting others to come and plant with us and we want to create a surplus so we can donate fresh produce to local food banks.
This new adventure came about when Lou Ann and I saw the world premiere movie "Eating You Alive" The movie cleared showed how most people's diets are not only unhealthy but will end up killing you prematurely. So we made the leap unto a whole food plant based diet on November 17th. Then we attended the Sedona VegFest which was a weekend seminar about living this new lifestyle which totally supports the planet.