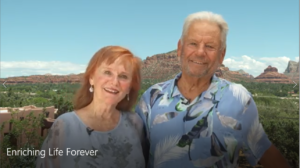 They created the Positive Place nearly 25 years ago and continue their journey celebrating life to its fullest.
They have created their first segment for Enriching Life Forever TV Show – segment 1 – women's empowerment.  Go to YouTube for Enriching Life Forever and watch it!  In it, we are sharing about women making a difference in the world! Click here to watch our first episode on YouTube here: https://www.youtube.com/watch?v=dTMCNSWtTHc&t=19s
Our second segment is about a local woman making a difference for children in Africa and other countries!  Our Grandson, Ganapatiye Thomas interviews Lin Ennis in it!  You can find it under Enriching Life Forever – Dress A Girl Around the World.  Go to YouTube then Enriching Life Forever – here is the URL for it! https://www.youtube.com/watch?v=7AnAF_izb9E&t=3s
If you wish to donate to the non-profit, please go to PayPal.Me/enrichinglifeforever
PayPal.Me/enrichinglifeforever
The mission of Enriching Life Forever is sharing the magnificence of the human spirit!  The positive place for planetary news!
They may be coming to your area of the world to film ordinary people there doing extraordinary things!
With a background in Holistic Health – as a pharmacist, Lou Ann shared Edgar Cayce products in the '70s to compounding bio-identical hormones in creams to studying essential oils for creating healthy bodies. Also Acutonics – Acupuncture with tuning forks is another modality she uses.  Thomas was the A.R.E. (Association for Research and Enlightenment) Clinic Director when they first met and continues focusing on vibrant living.
Lou Ann has taught Yoga and Zumba – two of her favorite forms of exercise! Thomas shares his wisdom and experience of sports like tennis, his many full marathons, and spirituality.
Besides sharing positive news they love to share Universal Principles of living life in every moment – filled with laughter, love, and magic!
Please email them at thomas@positiveplace.com or louann@positiveplace.com or enrichinglifeforever@gmail.com and they will be happy to share more with you!  Share what's going on for you too!  We would love to know what's going on in your life.  If you have been volunteering to serve others, please let us know!
In 2013 Lou Ann had the privilege of going to Kenya with the founder of CWPO (Children's World Peace Organization), William Day.  Kenya is one of the three places their program was, besides Nepal and Mexico – she was a guest facilitator teaching peaceful life skills and conflict resolution to hundreds of students each week – what an eye-opener!  We are all so alike in our desires for inner and outer peace!  There was lots of music and dance and laughter throughout the experience!  You are welcome to review the Kenya blog and photos about it…..
Thomas has several hundred blogs on our website and is has converted them into a book – From My Heart To Yours!  In the blogs and book, he shares about everyday life's sacredness and miracles.  He has had them on his Facebook page as well.  From My Heart to Yours is now in paperback and e-book form!  Go to Amazon.com to purchase it!  Here's the URL for it: https://www.amazon.com/My-Heart-Yours-inspirational-through-ebook/dp/B091BF6VB2/ref=sr_1_1?dchild=1&keywords=From+My+Heart+to+yours&qid=1620341914&s=digital-text&sr=1-1  Check it out!
Here's our first podcast: https://www.youtube.com/watch?v=MWMPTRQdmD8&ab_channel=LouAnnBruck
Know that we love you all and wish the very best for you!