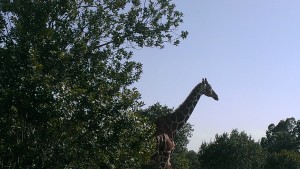 Yesterday we went to 2 classrooms then went to a safari.
What an exciting day!  Seeing pictures of animals is one thing – seeing them in their natural habitat is a whole other thing!
We saw giselles, impalas, wart hogs, jackals, baboons, chimps, zebras and the most exciting were elephants and giraffes!  We were surrounded in our car by a dozen or so elephants, babies too!  It was spectacular!  Also the giraffes with their babies are so graceful!  Amazing!  I took lots of photos and video.  So far I haven't been able to download them on here,  I will later though!
More classes to experience today!  Time to go!
May your day be filled with wonder and joy!
Namaste!