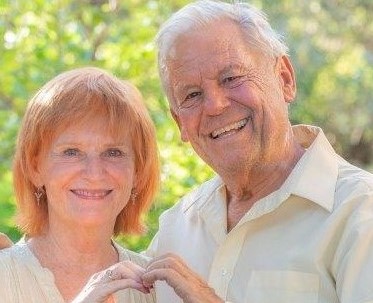 Thomas and LouAnn created the Positive Place nearly 25 years ago and continue their journey celebrating life to its fullest. Four years ago they added the non-profit arm called: Enriching Life Forever. Its purpose is filming ordinary people being extraordinary!
Thomas: I have been an interfaith minister for over 50 years. I hosted the positive Place radio talk show for three years on KAZM Sedona; interviewing celebrities and difference makers. Now we do filming for Enriching Life Forever with the same theme!
I officiate at weddings, do life coaching and give workshops. I facilitated a ten week self-improvement course at a large commercial bank. I also wrote and directed a musical (which played in Phoenix to packed audiences)! We both sang and acted in it!
I converted 600 of my Facebook blogs, with Lou Ann's help, into our book: From My Heart to Yours: A 365 day inspirational guide to help you find your way through life!
Lou Ann: With a background in Holistic Health – as a pharmacist, I shared Edgar Cayce products in the '70s to compounding bio-identical hormones in creams for prescriptions. Also Acutonics – Acupuncture with tuning forks is another practice I have used.
I have taught Yoga and Zumba – two of my favorite forms of exercise, meditation and health focused (emotional, physical and mental) workshops too!
Besides sharing positive news we love to share Universal Life Principles of living life in every moment – filled with laughter, love, and magic!
Please email Thomas or Lou Ann at:

[email protected]
[email protected]
[email protected]

They will be happy to share more with you!  Share what's going on for you too!  If you have been volunteering to serve others or if you know of someone who has, please let us know!