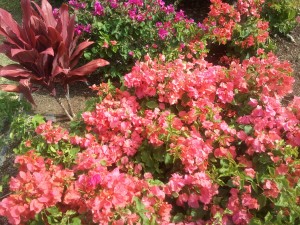 Today is a beautiful sunny day in Virginia, which is reminding me of our home in Hawaii.  Each place in the world has its own uniqueness and beauty.  I am grateful to be wherever I am in space and time!
I am also looking forward to traveling next week to Nairobi Kenya and be a part of the Children's World Peace Project.  My desire is to bring it to the United States and have it be a powerful influence for children here as well.
Gratitude has been one of my mantras these days!  I have been blessed to begin a 21 day mantra meditation with Deva Premal and Miten with 46,000 other people around the world. I feel deeper in the dance of life through these daily practices.  I wish you all joy and an inner knowing of who you truly are.
I'm sending you beautiful pink flowers in picture form for you to enjoy!
Namaste