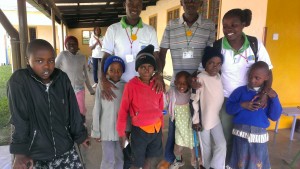 We trained in the morning, learning lessons 14, 15 and 16 this morning.  There were volunteers with us interested in becoming facilitators and two teachers from 2 different schools we visit:  CCM and Tegithi.
With each lesson are new dances to learn! We learned three new dances this morning. One was called: Healing Time, one was Inhale and exhale which go perfectly with the lessons we are learning.
Then this afternoon we went to Childrens Disabled Home sharing more dances and peaceful life skills.  I didn't know my heart could open any more than it already has, yet it did!  Wow!
Sending out all the love I feel to you!  May your weekend by filled with joy and wonder!
Namaste
Lou Ann